Flannery Currin, a 2019 Earlham College graduate with degrees in computer science and psychology, has been awarded a Graduate Research Fellowship from the National Science Foundation.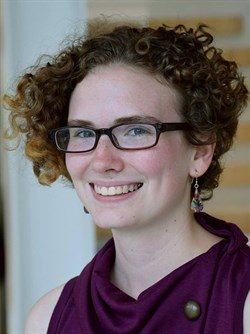 The prestigious, highly selective fellowship provides a three-year annual stipend of $34,000, a $12,000 cost of education allowance for tuition and fees, and access to research opportunities and professional development at any accredited U.S. institution of graduate education they choose. Fellows become knowledge experts who can contribute significantly to research, teaching, and innovations in science and engineering. Past fellows include Google founder Sergey Brin, Freakonomics co-author Steve Levitt, and Nobel Prize winners in several categories.
Currin said Earlham's curriculum, faculty, and institutional commitment to social justice and community engagement helped strengthen her application.
"The way the application is structured also fits well with the skill sets that I developed at Earlham," Currin said. "Applicants are asked to describe their intellectual merit and social impact along with the intellectual merit and social impact of their proposed research. The classes that I took at Earlham taught me research methods that I described in my application but also taught me to constantly think about the social impact of any project I work on, which made that portion of the application relatively easy for me to write."
Currin is currently in her first year of graduate school pursuing a Ph.D. in computer-human interaction at the University of Iowa. Her scholarly interests are related to technology that can yield solutions for people with intellectual and developmental disabilities.
"I am currently being funded through the University of Iowa for work that I do as a graduate assistant, which means my funding is tied to teaching or research assistantship positions," Currin said. "This fellowship provides funding independent of these positions. Now I can focus more time and energy on my research instead of trying to balance it with teaching commitments or commitments to other projects. That freedom, flexibility, and ability to focus as I start working on my dissertation is probably the most important aspect of this fellowship."
Original article link: Earlham alum awarded National Science Foundation Graduate Research Fellowship