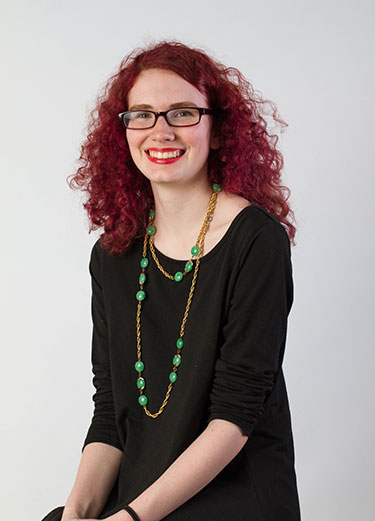 Flannery Currin

Class of 2019
Hometown: Dallas, Texas
Major at Earlham:
Computer Science, Psychology
Flannery Currin '19 once dreaded computer courses.
That time was during grade school and, she says, "I didn't have a good concept of what computer science was." But after a few courses, Currin found that applications of discrete math appealed to her. It wasn't a far leap from that to her greater appreciation of computer science.   
"Computer science requires creativity and problem solving," she explains, "and it has a lot of flexibility. I didn't know that going in. It's a lot like learning a language in that there are syntax and conventions to follow, but you can stray and it still works. There's so much potential with what can be done with computers and technology."
Currin's interest lies in human-computer interaction and quality of life technology.
"While it is true that technology has made information more readily available, there are still gaps," Currin says, referring to technology that serves people who are visually or otherwise impaired. "I'm interested in computer science, and I have a brother with special needs. I want to find a way to reconcile these two."
At a 2016 Web Summit in Lisbon, Portugal, Currin began working with a Budapest startup that is creating an app to help people who are visually impaired to differentiate bank note denominations. Her contributions thus far include web site translating, editing and sourcing. Currin also participates in hackathons and was on the Earlham team that won first place last fall at the University of Cincinnati Hackathon. She is a member of the computer science applied group HOP, or Helping Others Program, which offers drop-in tutoring sessions three evenings per week. She is also a teaching assistant for the Social Psychology course this semester and is double majoring in computer science and psychology.
"Psychology is important to remember when thinking about the impact tech has on people, but I find psychology interesting in its own right," she says. "Having a background in both computer science and psychology will help with computer-human interaction. Technology can't be divorced from the people who use it."
While at the annual Grace Hopper Celebration of Women in Computing conference, Currin secured an internship at Pacific Northwest National working with a visual analytics team testing layouts of user-changeable interfaces. She will spend a summer at Earlham helping design an interdisciplinary course for the psychology and computer science departments. The course, which will be offered in spring 2018, will use robots to display animal behaviors.
"I feel drawn to a career in research," she says. "I do really want to help develop assistive technology or quality of life technologies. People who are able-bodied and typically-developing take for granted the daily aspects of life that are exacerbated by technology."