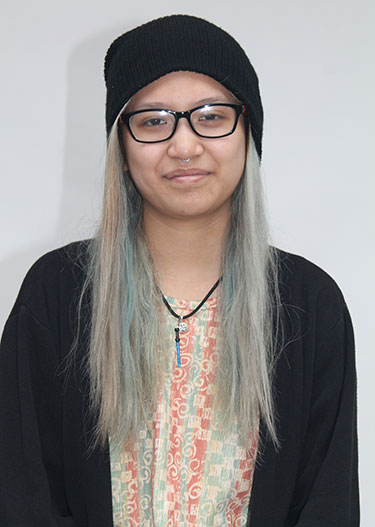 Chau Pham

Class of 2019
Hometown: Hanoi, Vietnam
Major at Earlham:
Computer Science
Keeping up with Chau Pham '19 is no easy task.
Last semester she went to four tech conferences and competed in two hackathons.
"It's challenging, but there is a way to make it work," she says. "These experiences are valuable."
During the conferences, she made friends with two people who encouraged her to apply for a Google internship that recruits undergraduates in their first or second year of college and pairs the intern with a mentor.
Pham will be working in Google's office in Seattle in the Corporate Engineering team, specifically with application programming interfaces.
"Engineers use a pre-made library of tools," she says. "Instead of having to make a particular tool every time, they can just pull-in something that already exists, and I'll be working to help create those tools.
 "I want to go into software engineering, with a focus on machine learning and artificial intelligence. I want to create technology that helps people get access to education and learning. Technology is supposed to make life better, not the other way around."
Pham, who played chess competitively for a year while in high school, says she enjoys participating in hackathons.
"I love being surrounded by nerds who are passionate and who think it is a good idea to go 24-36 hours without sleep to create something cool," she says.
Hackathons and conferences give Pham opportunities to network and learn about things others are creating. She thinks they are well worth the effort and expense.
"I always apply for scholarships. There's a lot of understanding on the part of my professors when I tell them I'm going to a conference and will need to be away for a few days. And if going means that I might get a B in a class, I think it's a good trade-off."
Last summer, she interned at Richmond's Green Filing, a company with a web-based application attorneys use to file cases electronically. Her task was to scrape a website for read-only PDF forms in California and write a decryption program to make the forms fillable for clients.
Pham graduated from THINK Global School, a high school where students live and learn in three countries each year.
"We had to have a digital portfolio online that we presented in order to graduate," she says. "I taught myself web design. It's amazing the stuff you can do when you learn how to speak the way computers do. Then, I started taking computer classes at Earlham, and I loved it. It's a powerful tool you can do a lot with.
"I didn't think I was Google material. Now come and watch me participate in corporate America. I'm not in tech to make money. There are easier, more sure-fire ways to make money. C.S. is risky because the field is changing so rapidly. I see it as an opportunity to use something really powerful to help people."