By Uyen (Winnie) Nguyen: 
I greatly appreciate that I got the chance to be one of the 950 scholars out of 25,000 participants in Grace Hopper Celebration 2019. It was an amazing opportunity to learn more about technology in diverse aspects and meet many recruiters from different big companies around the world in the Career Fair such as Facebook, Linkedln, Workday, Affirm, Bank of America and so on. I was excited when the Facebook Technical Program Manager was interested in my entrepreneurship idea – CooKool – and offered to help & give me advice for the app building process!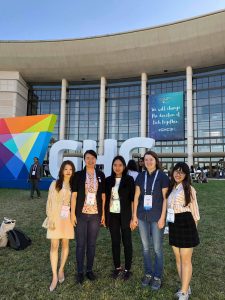 With the theme "We will/I will", GHC19 really inspired me on using technology to change the world, create more pathways for women leaders in technology, and protect others. As the vision 50/50 of AnitaB by 2025, we will increase the visibility and eliminate the erasure of women in tech. 
Holly Liu, Co-founder of Kabam and winner of the 2018 Technology Entrepreneurship Abie Award said: "There's no way we can predict the future unless we build it." I feel like conference like GHC helps women become better leaders, better technologists, and better problem solvers. Thanks to GHC19, I learned new things and broaden my perspective on technology.