After a research trip to Nicaragua during winter break, George Crowson '16 won't look at the sky and see it the same way.
"You could see every single star," the Richmond native explains. "There were no cities for miles and miles. We were in the cloud mountains, and it was simply gorgeous. The sky here is just not as impressive."
Crowson was invited to take part in the research trip, which investigated Hemilia vastatrix, La Roya or coffee rust, which is a fungus that is affecting coffee production worldwide, especially in Nicaragua. The fungus spreads on leaves limiting photosynthesis and ultimately coffee production. The Earlham group sampled coffee plants in several Nicaraguan coffee farms.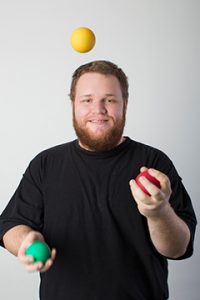 "The amount of new stuff I encountered during this trip is astounding," he says. "It was a trip of many firsts." Indeed, Crowson had never been on a plane, never traveled outside of the U.S., never climbed mountains, and never had a group depend on him in quite the same way.
"I learned a massive amount during this trip," he says. "I discovered in myself confidence and dedication, and in others I discovered a will to succeed."
Prior to departure, Crowson created a script to determine the amount of fungus on plants by pixel and color.
"My script uses ImageMagick, an open source program, to compress color into three categories: green, orange/brown and everything else," he explains. "We used this stark contrast to calculate approximately how much rust is on the plant.
"We took a lot of sensor readings and sequenced the microbial life on the leaves we collected, but the images give us this bigger picture. Images let us evaluate the plant as a whole. It added a lot to our data and in turn will help us spot trends between farms and cities."
The data is being analyzed and then will be translated into useable information using the nationwide academic cluster Blue Waters.
"We hope to find something that increases the severity or frequency of La Roya or coffee rust or something that decreases the severity or frequency," he explains. Ideally, this information would help coffee farmers combat the coffee rust fungus.
Crowson says he followed an irregular path to Earlham. After elementary school he was homeschooled, which caused him to more seriously consider his education.
"I very much wanted to be a worthwhile person and contribute to society," he says. "So I worked really hard to teach myself to think and to be disciplined enough to do the things I wanted to do. I laid a foundation and built on it. I talked to people, read a lot of books, and researched on the internet."
After earning his GED at the age of 17 he completed an associate's degree in Computer Information Technology at Ivy Tech State College. Still not satisfied, he began looking at four-year schools and settled on Earlham after reading Principles and Practices, a statement of values including respect for others and truth-seeking that guides students and employees at the college.
"After I read through Principles and Practices, I said 'This is who I am,"' he remembers. "I was ecstatic. It's a lot of little things that add up to the whole — the flyers in the bathrooms, compost bins in the dining hall, the sustainability office, the anti-bigotry plaque in the (Wellness Center)."
At Earlham, Crowson is part of the computer science department's applied group called the Hardware Interface Project, which is working on creating a flood detection sensor, an edisplay about the amount of energy being used by campus buildings, and a weather station.
"The applied groups and the research opportunities allow you to take what you learn in class and apply it to real-world situations," he says. "This type of work is not graded work that you hand in. We work toward a desired end, and it either works or it doesn't."
As an example, Crowson says that in Nicaragua, a lot of things had to be changed or refined on the fly.
"This was actually very rewarding for me," he says. "When we got to the first farm we discovered that part of the protocol was not going to work. On the spot we had to change it up, so I sat down for about 15 minutes on a stone wall where they made coffee and programmed code to make it work. It was weird and amazing to write code in that environment.
"Throughout the trip I felt like we were all scientists and that my voice and thoughts were significant. I think undergraduates at larger schools are less likely to take part in this type of research.
When he's not writing code, which he loves to do, Crowson is one of two leaders of The Juggling Club! and often can be seen juggling, which he finds therapeutic and entertaining.