A group of Earlham student researchers and two faculty members is working with two alums in Nicaragua over winter break to visit coffee farms and research the fungus that is damaging coffee production worldwide.
Ben Smith '12 is in the Peace Corps in Nicaragua and suggested the project to Professor of Computer Science Charlie Peck '84.
Samples will be gathered from 10 farms, including Calla Specialty Coffee, which is owned by the family of Wilmer Chavarria '13 in northwestern Nicaragua.
"Part of what makes this project interesting is that we are tying together a couple of alumni, each of which have different connections to Nicaragua, with current Earlham students, and students in Nicaragua," Peck says.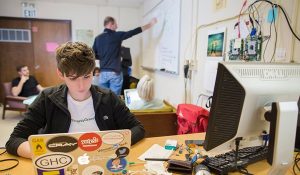 The project is interdisciplinary and focuses on Hemileia vastatrix, La Roya or coffee rust, which is a parasitic fungus that eats its host. The fungus spreads on the leaves limiting photosynthesis and ultimately coffee production. It affects all coffee growing countries, in particular Nicaragua.
"This fungus has been around ever since coffee existed," says Sadie Coughlin-Prego '16, who is from Nicaragua. "The situation is much worse now because of high coffee demands and production in recent years that left the coffee field more weakened."
Already, the Earlham researchers are in contact with several coffee farms. The group will examine environmental factors such as water and soil compositions as well as genetic factors.
The goal is to collect approximately 20 leaf and soil samples from each farm, 10 samples from infected plants, 10 samples from uninfected plants. With the help of two Nicaraguan biology students, microbial DNA will be extracted from the soil and leaf samples at the University of Leon. Once the DNA is extracted it will be brought back to Earlham for sequencing and analysis. Mothur, an open source metagenomics software package, will process and analyze the 16s gene sequences, ultimately providing a breakdown of the microbial population in each sample.
The group will be using at least three different pieces of equipment that Earlham students have built, including two that are specific to this project.
They will use Seshat, an Android app developed by computer science students for a sampling trip in Iceland last year. Seshat is a digital clipboard that collects data from different sensors, geocodes and then transfers the data to a local laptop for aggregation, analysis and visualization. Coughlin-Prego built a soil sensor, which measures conductivity, moisture and temperature, and George Crowson '16 built a script to determine the amount of fungus on plants by pixel and color. Seshat will store four images of each coffee plant until the photos can be processed.
"My script uses ImageMagick, an open source program, to compress the color into three categories: green, orange/brown and everything else," Crowson says. "We can use this stark contrast to calculate approximately how much rust is on the plant.
"We'll take a lot of sensor readings and sequence the microbial life in and on the leaves we collect, but images give us this bigger picture," he says. "Images let us evaluate the plant as a whole. It'll add a lot to our data and in turn will help us spot trends between farms and cities."
Coughlin-Prego is excited to have the group sample at La Bastilla Technical Center for Agriculture and Tourism, where they will stay at the facility's Ecolodge. She has visited La Bastilla several times and is impressed by the Nicaraguan school that teaches practical and business skills to young local Nicaraguans.
Students operate seven businesses including a small coffee farm, while the ultimate goal is for the school to become self-sufficient and environmentally sustainable. Students from La Bastilla also will assist with sampling on their coffee farm.
The research trip began Dec. 18 and ends on Jan. 1.
In addition to Coughlin-Prego, Crowson and Peck, other trip participants include Tara Urner '16, who is responsible for developing all of the field sampling and lab extraction protocols; Kristin Muterspaw '15, who is a principle developer of Seshat and works with Mothur; Deeksha Srinath '18 is organizing maps and works with Crowson in developing the SampleSpot application that generates random locations on each farm for the 10 samples; and Ivan Babic '13, a post-baccalaureate intern in computer science who is organizing and coordinating the trip and helping with low-level sensor interfaces.
Ben Yee '15 won't be traveling to Nicaragua but has been working on the ambiance platform software. The group is also receiving advice from Ruth Lewis '14, a veteran of the group's trip to Iceland last summer.