When Elena Sergienko '14 came to Earlham in the fall of 2010, she was the first female student in six years to choose a computer science major.
Being a female among the majority of her male counterparts, Sergienko feels she has incredible support and access to numerous opportunities.
During the years she spent in college, Sergienko has already gained the experience of working in several big companies.
In Spring 2012, while on an off-campus program in Philadelphia, she interned at Probaris Technologies, a big partner of Verizon. Following her experience in Philadelphia, Sergienko started another internship at a large multinational company Goldman Sachs in Salt Lake City in summer 2012.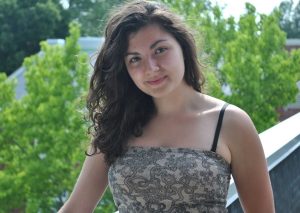 In both of these companies she worked closely with many women and discovered that there were many opportunities and flexibility for female workers in the field.
She says that some women could work from home, or adjust their schedules to be able to spend time with their children. She described the atmosphere in those companies as motivating.
Networking Opportunities
In her sophomore year, Sergienko attended Grace Hopper Women in Computer Science Conference in Portland, Ore.
"I decided to go there on my own, but it was hugely supported by one of the professors at Earlham, and that is why I feel I was always given opportunities and supported by faculty," she says.
She met many successful women and heard them talk about their career paths and challenges, which was really inspirational for her as a young specialist.
"I feel I am very lucky to not experience any difficulties in terms of being a woman in computer science. I know there are a bunch of difficulties related to gender in the industries, but I did not feel that at Earlham. I am confident that I have done a right choice," she says.
"I feel like every time a new woman is coming into a male dominated field, women have to help each other out rather than see each other as competitors," says Sergienko. She believes that if women did so more, they would feel more confident in male dominated industries.
Sergienko knows that using the skills and knowledge she already gained, she can produce valuable applications that will benefit the society.
"The great thing about my major is that it gets applied literary everywhere," she says.