In the midst of a series of significant life changes, including transferring colleges and changing majors, Craig Earley '16 discovered his passion at the intersection of social science, statistics, information and computer science.
He transferred to Earlham with a deep interest in politics and social justice and a mild interest in computer science.
"As it turns out, there is a lot of power in sitting at a computer," he says. "I see how important data science is in solving big problems in government or in well-functioning societies and economies. Data science, or the chain of building useable information from data, is a fairly simple model to thinking about just about anything. The process is a powerful tool to apply to any problem you are solving."
As part of his work in the computer science department's new Data Science applied group, Earley is organizing a hackathon called the Day of Data, where groups of Earlham students will work for one day to help some of Richmond's nonprofits, social agencies and other organizations solve problems. The event is scheduled for Friday, May 6.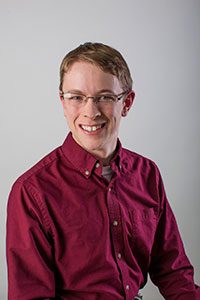 "We will have them come to us with their problem and data set," Earley says. "We will process it, clean it up and analyze the data to come up with a way that it can be used to provide a solution to the problem. We may find a deficiency that they are not aware of, or a new way to approach a service."
Earley says that young people first begin to explore career interests by looking outside their immediate area during their mid-teen years.
"This for me was during the 2008 election cycle, which I followed closely and continued to follow even after it was over," he says. "I realized that this matters a lot. Even beyond the horse race, people's lives are involved here, and there are both good and bad consequences."
With only a practical interest in computers, Earley enrolled in calculus and a computer science course during his first year at Earlham.
"These courses hooked me," he says. Immediately he began working with the computer science department's Hardware Interface Project applied group, first on the installation of a weather station on the roof of Dennis Hall and then on moving into the new Center for Science and Technology. This semester he is wrapping up an indoor air-monitoring project for use in the CST. HIP came up with a device using the Arduino platform that inexpensively measures temperature and humidity.
Earley says that politics and computer science may seem disparate, but he found similarities by digging deeper. This helped him bridge the gap between previous passions and new ones.
"If you look at my ideas analytically, there are some correlations," he says. "I want to know how things work, how government works in a well-functioning society or economy or what have you. Data science is a tool set to help make that quantifiable. I want to know what I can provide that makes the analysis more effective.
"It wasn't until I got here and encountered an extraordinary set of opportunities in the computer science and math departments that this became apparent to me."
For a year and a half, these experiential opportunities were on the technical side. They have since expanded.
"The logistics of getting an event organized teaches you different skills than the ones involved in coding," he says. "I have been surprised by how much I have enjoyed the logistic, human side of the project. It is certainly a situation where my desire to do it exceeds the number of hours I can dedicate to it."