By Dipesh Poudel:
Earlham had its inaugural TEDxEarlhamCollege event this March. Luckily, I got an opportunity to be a part of the Website team alongside Eliza Vardanyan ('21) and Uyen Nguyen ('22) where we collaboratively worked on build an official site tedxearlhamcollege.com for the event. Being a part of the Web Development Applied Group at Earlham College since my freshman year, I was exposed to tools like WordPress and front-end frameworks like HTML, CSS, and JavaScript. I was able to replicate a lot of things that I learned during WebDev into this project.
Since we have to build the website from scratch. First, we had to register a domain for the site. Based on TEDx guidelines, we decided to go with tedxearlhamcollege.com and registered the domain through NameCheap which was apparently cheaper than GoDaddy or domain.com. Then we looked for a reliable  WordPress-based web hosting service provider and decided to go with SiteBuilder which was quite economical and met all our requirements. When it came to choosing an appropriate WordPress-based theme for the TEDx website, we went for Elementor which is the same theme that the CS department website employs, and has a pretty easy interface to work with.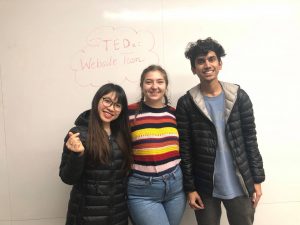 Now, our main job was to give a good shape to the website. We constantly communicated with the Design team for the quality pictures and Communication team for the content. It was a slow and steady process and we had to update pictures and content quite regularly. Few weeks before the event, we came up with a decent looking site that was complete and full of important contents like speakers' information, sponsors, team information and contact details all related to the event.
Every one of us learned a lot about web design, teamwork, TEDx guidelines, and WordPress in the process. We were able to create something which played a quite handy role in the event's success. Overall, it was an awesome experience.